No more tie on knots or beads!
The Smart Stop Micro is a hard plastic bobber stop that snaps onto your line using a small needle nose plier. It is designed to replace and eliminate both the tie on knot and bead as well as the need to thread your line through your stop. Simply set your line into one of the slots of the Smart Stop Holder, give the stop a pinch and a twist with your pliers, and it's on - ready to go.
• The pinch is to close the stop and the twist
is to get it off the spool.
• It's easily adjustable, but resistant enough
to hold your bobber in place.
• The stops are designed for 2#-12# (.004 to
.012 diameter) monofilament line.
• With their small size and tapered edges,
they slide through your eyelets virtually
unnoticed, and reel smoothly into your
open faced reel.
The clear plastic part is the holder. The holder comes pre-loaded with a cartridge of eight Chartreuse colored stops. Once the eight stops are used simply open the holder pack, discard the used cartridge, and drop in a new spool with the graphics side up. The holder is necessary, as it not only protects the stops when in your tackle box, but also guides the stop to where it needs to clip on the line.
Be sure to take a look at the video below to see a quick demonstration of how to put the Smart Stop Micro on your line.
Try the Smart Stop Micro with our Slip Lock Bobber and have the quickest slip bobber set up on the water!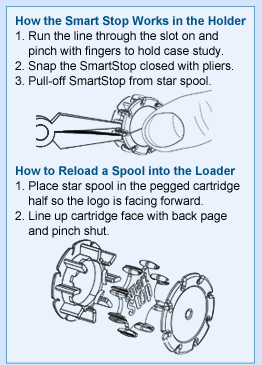 Holder pack with 8 stops just $1.69!